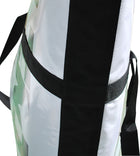 Description
Salty Gear™ KINGFISH BAG is absolutely the thickest, toughest,most insulated Fish bag on the market.
-We use #10 YKK® zipper. 2" heavy duty webbing. 1" thick closed cell foam. Super heavy weight marine quality thread, 13oz. nylon reinforced vinyl outer shell as well as a 13oz inner modular liner.
-Our liners are "drop ins" allowing for fast economical repair or replacement, something you wont find in ANY other fish bag.
-Specs. Length: 60" Height: 24" foam thickness: 1" closed cell Folded dimensions: 12" x 24" x 24"
-Please contact for orders outside of Florida.